Before anything, I want to thank everyone for such kind emails and comments, they really do make my day! I have to say, I'm definitely opened up for opportunities but in the meantime I'll make the most out of the resources that are available to me. On to the minimakeover…
Marito is basically my brother from another mother. Our mothers went to college together and I've known him since he was a baby.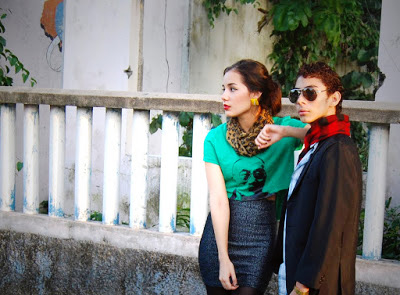 Scarf, tee & skirt: thrifted. Earrings: vintage, from grandma.
He spends an unhealthy amount of hours browsing through LookBook, has a crush on Blair Waldorf and doesn't complain, like most boys do, when I say I need a new pair of shoes. We get along just fine! Anyway, Marito loves to bring his schoolmates, along with half their closets, over to my place so that I can give them ideas on how to dress for upcoming school events.
Astrid was our latest…victim?
A jeans and t-shirt kinda gal, she was so embarrassed at first when I suggested we take the pictures outside. You would understand, there's all this car honking and yelling going on. My favorite? "Adonde dejaste el avión, corazón?", which translated would be, "Where'd you leave your plane, sweetheart?" Haha!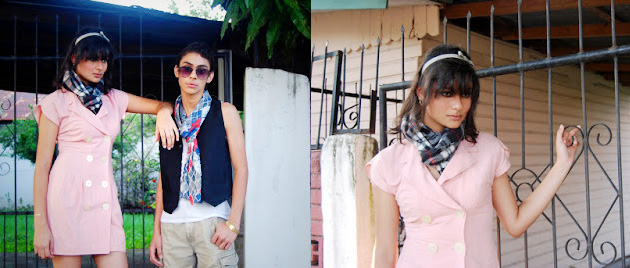 I usually have a hard time convincing girls to wear some of the stuff I give them from my vintage collection…mostly items that very unfortunately don't fit me, so I'll usually just have to settle for their own wardrobe.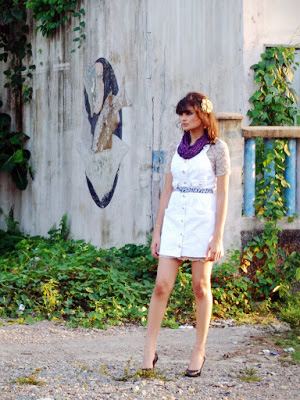 Lace dress: thrifted. White overalls & scarf: Astrid's own. Belt: vintage.
Besides the clothes, I ironed her hair, smudged some eyeliner and VOILA! I say she looks darling! Let us know your thoughts on the comments below! 🙂