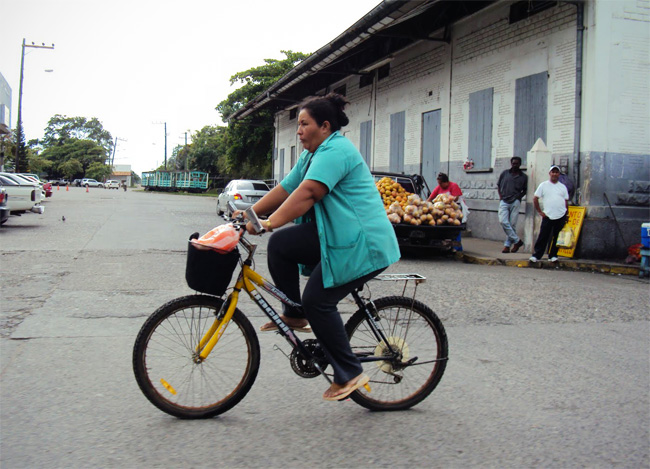 Even before the fabulous Catherine Baba+bike pictures surfaced, I decided to make a bike my official form of transportation and failed miserably. Turns out sidewalks are not my friends and brakes seem to hate me, so that chapter was closed shut and locked.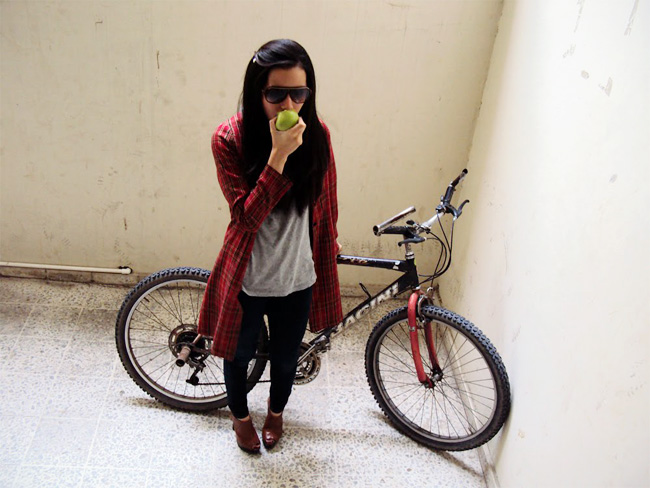 Do you see anything shocking about me wanting to ride a bike to work? If you're in "third world country thinking mode", then YES. See, down here it's all about hierarchy. If you ride a bike, it's ONLY because you can't afford anything else. Either that, or you're a tourist.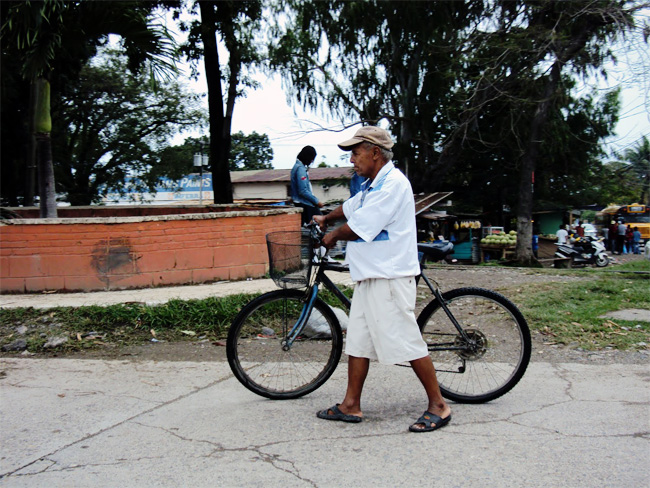 It has nothing to do with environmental consciousness, avoiding traffic, being healthy or fashionable. It gets you places. PERIOD. It's a shame, I know…but I also admit I have smirked at the sight of over-tanned caucasians pedalling their way across the streets. Sorry!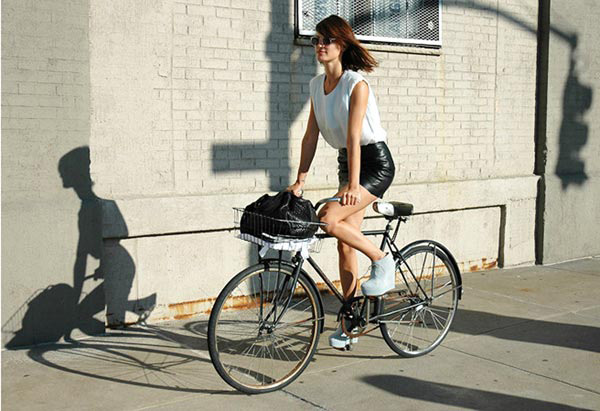 Observation of this Tommy Ton shot: I'm sure we all agree Miss Hanneli looks way too incredible. However, I have a question: Is there no such thing as pervs in NYC?!! Down here girls could never ever. In La Ceiba, a hint of exposed knickers would put me in headlines! And I'd perhaps even be expelled from our city forever!
Anyway, the hierarchy thing applies to most other things. For example: cheap buses vs. comfy A/Cd expensive ones. I prefer the cheaper old ones because I find them more interesting and each ride is somewhat of an adventure. The cheapness I also obviously love. But these buses are usually only used by those who have to, not those who own cars or can afford the newer ones.
(Pic re-post alert…woops!) My sister and I on a Mirna bus (less than $5.00 for a 3 hour ride).
Interesting stories about illegally crossing borders and raising chickens are included. I love those and I'm not kidding! Only occasionally do I ride on the colder, more expensive (safer, blahblahh) ones. The latter are obviously less dangerous and they do plenty of ID checking, but I can't help it! I heart Mirna buses even if they smell funky.
Inspiration shot: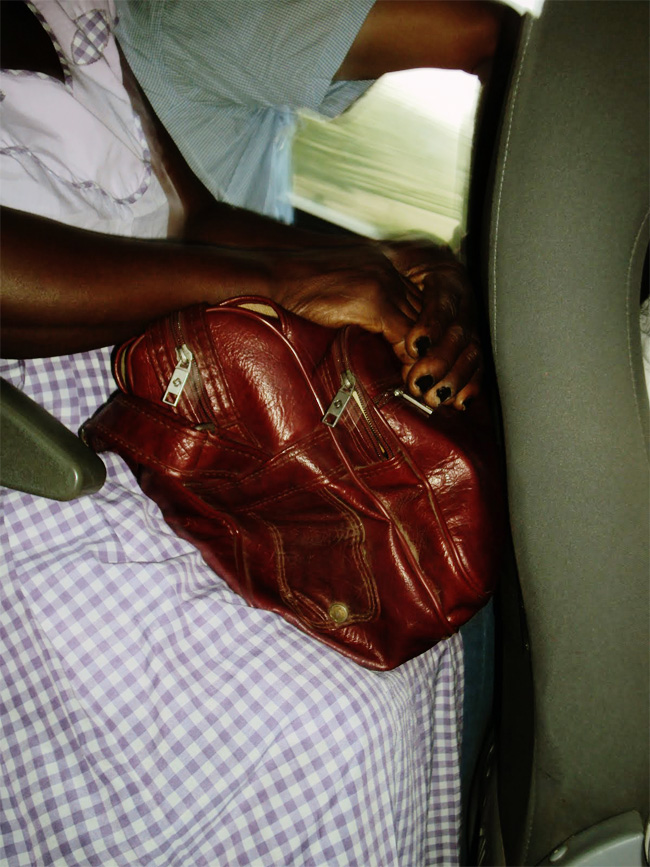 Garifuna lady+pastel gingham+red leather+dark nails. LOOVE.
At this risk of sounding weird, I have to say, in the Mirna buses I also get to sleep confidently with my mouth open because I don't feel judged.  All I have to do is stay alert while doing so, to avoid waking up without any shoes on. Haha!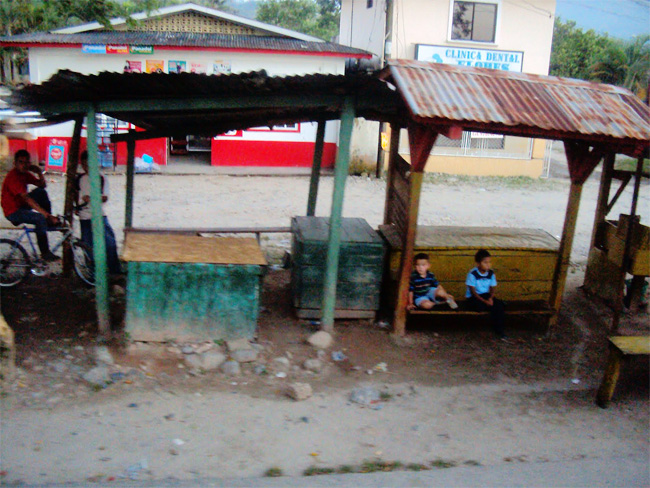 On the road pic. Rusty red, army green, mustard yellow and hints of pastels. YUMMY. I need to make me some clothing ASAP.
Speaking of which, I finally wore this dress I sewed up with ugly scraps of fabric I had lying around. Not my fave, but was great pattern-making practice.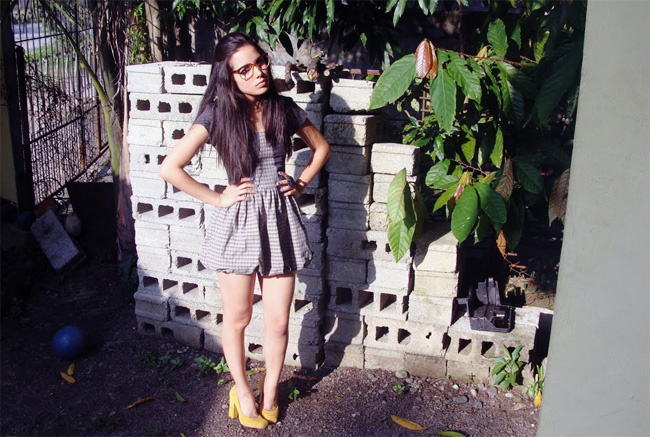 I haven't sewn much lately because I was sick for over 10 days AND my family and I just moved. It was tiring and I've missed my sewing shop.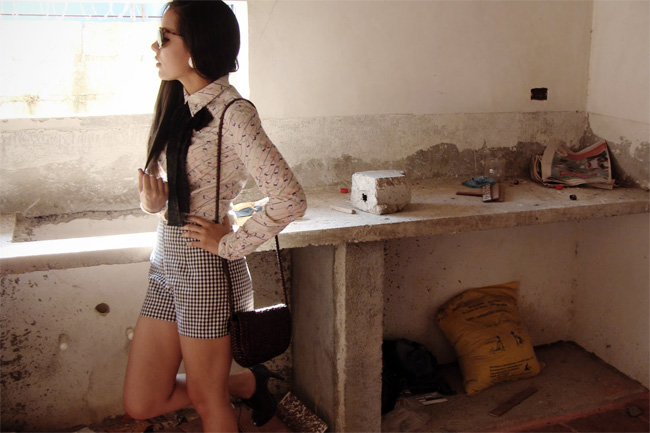 Cloud print shirt, bag and short: thrifted.
Ohhhh, and I already wore that one dress with the DIY straps I posted about before. Voila!
By the way, I'm not an angry person, I promise! (boyfriend allowed no comment). It looks like so in the pictures because the sun is usually in my eyes. I work hard to tone down my obnoxious laugh…I'm not angry, I promise!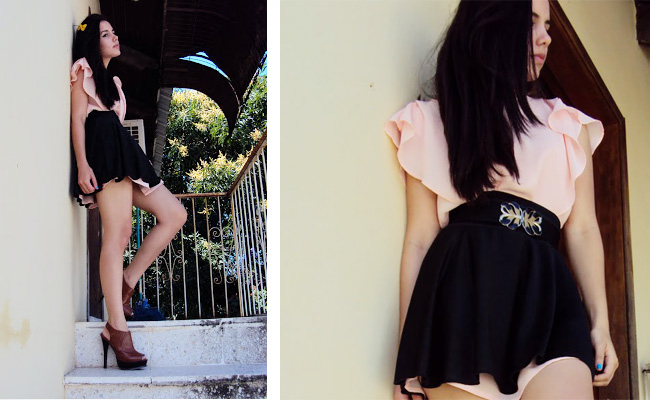 The sun has been more like on our everythinggg lately! It's the hottest summer we've EVER had…some people have even been getting sick! It's also making my brain dead and all I do is re-wear the same 'ol summery pieces.
Same peachy slip from last post. *yawn* On my defense, I'm not the only one doing it. Geral: guilty! My same dress & her same blue cropped jacket from last post: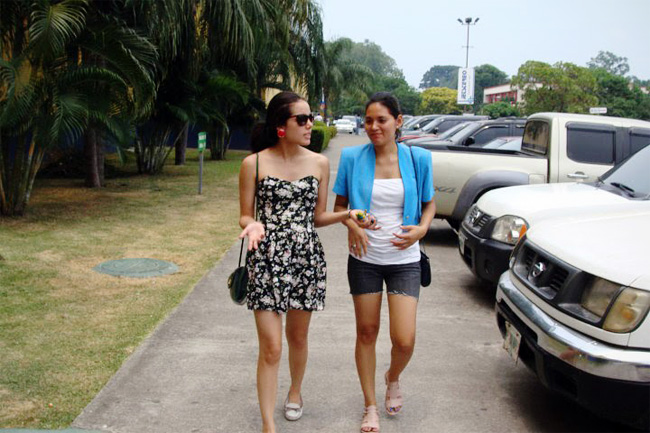 Howeverr, I'm done with packing and I'm ready to make peace with the heat. I'll make sure to take better pictures on future bus rides so then maybe I'll (indirectly) convince my friends that Mirna is the ONLY way to ride. A salute to glam bikers all over the world! And to other third worlders, whatever it is that you like riding in…enjoy! Even if it's cheap.
Love,
A slightly dehydrated Fabi