I noticed how much prices have increased on my last secondhand shopping trip, so I made use of new tricks up my sleeve and here they are:
1. Stay away from the shops with A/C and real dressing rooms unless they have discount boxes. These usually sell Gap and Old Navy, praise them for being "Ropa Americana" (clothes from the United States) and have fixed prices. Big NO NO.
Christmas-y flats found on my last trip to the Honduran capital. Cay-ute!
2. If you fancy more than one item, ask for the price of one first. Then say, "How much if I take both?"
3.  After knowing the asking price, when bartering say "I'll take it RIGHT NOW if you give it to me for so-and-so-price. Emphasis on "right now" can work magic.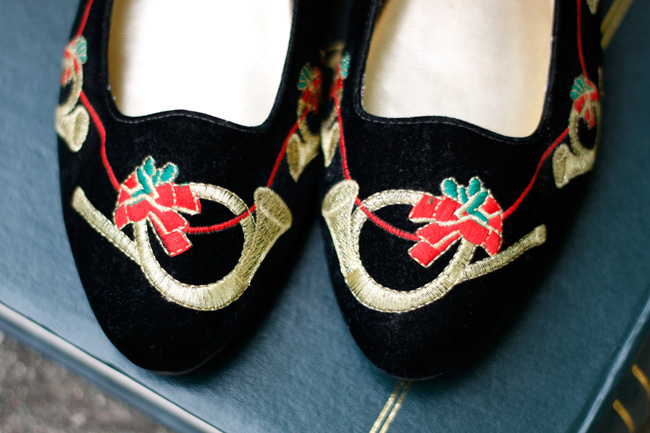 By the way, vintage sizes usually run small. These flats are a size 6 but fit my little sister who's a 5.5.
4. Bring lots of change. You deserve to be punched if you barter and then pay with the largest bill in existence. I mean, seriously.
5. Befriend the salespeople. They're most likely underpaid and will appreciate a friendly customer. Once they get to know you they can point you to the "weird grandma dresses you like" when they get new stock.
Warning: tips might only apply in third world countries. 
♥ Next post later today: Easy mullet skirt DIY. Happy holidays everyone!